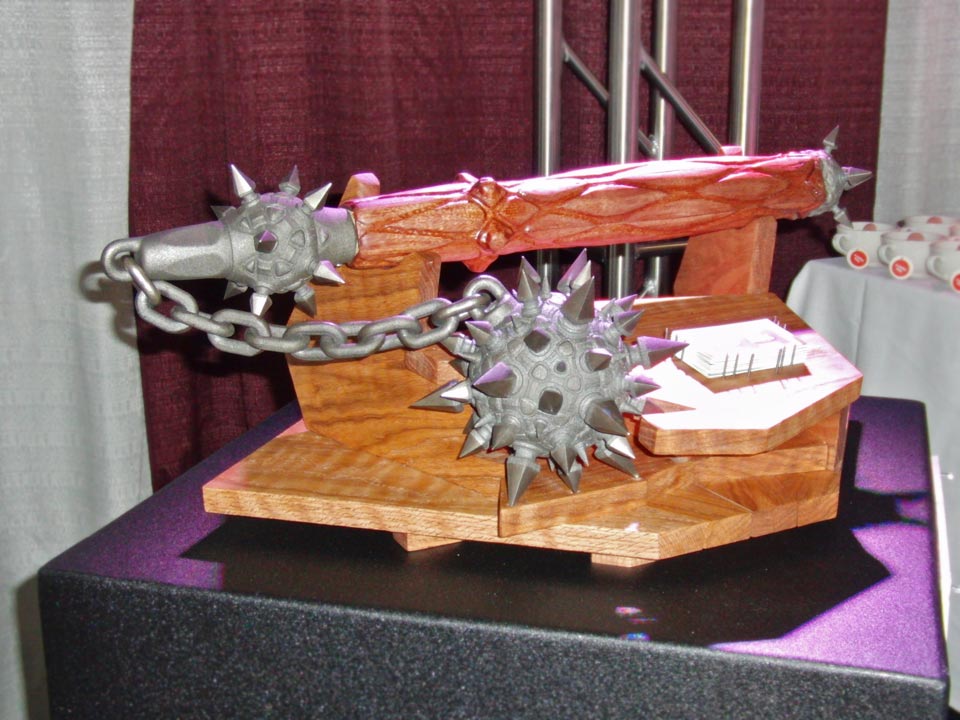 The Morning Star looks incredible on its wooden base in the gallery at Rapid 2011! There are many other beautiful pieces on display, though photographing them is difficult with the LED spotlights directed at them. I will give that another shot today. My piece is exceptionally durable and I describe it as tactile art, so I worked with the curator to arrange it more accessibly with a sign encouraging interaction. The ball is actually zip-tied to the base, just in case. Huge thanks go to Bob, Tom, and Glen at ProMetal for helping to make this piece a reality!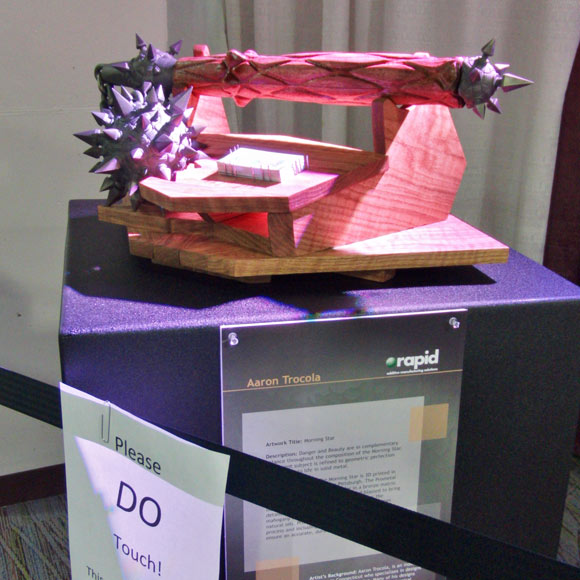 One of the more impressive machines I saw at the event was EnvisionTec's Bioplotter, which aside from being a solid piece of engineering, had some very unique capabilities. It could rapidly switch between five material cartridges, all loaded with various biologically compatible plastics for creating implants. The cartridge can also be filled with living cells in a nutrient solution for producing replacement structures using the patients own cells. Note the nozzle cleaning system in the front. A steel wire, a toothbrush head, and a wire brush. By far the least high-tech part of the system, but it does the job.
EOS presented their mature line of laser-sintering machines, and was also focusing heavily on software, with applications designed to create sparse mesh structures from CAD input. Their contribution to this common approach involves dynamic finite-element simulation to evolve a more efficient structure. They had plenty of examples of porous Titanium medical implants and other complicated structures.
I spent a good part of the day browsing the booths, but I'm not nearly done. In the evening, after the dinner reception on the show floor and chatting up the vendors, I took a walk though nearby Loring Park and stopped for a pint at Mackenzie.